Reasons Why You Have A Safe Not Opening
One of the most common reasons your safe is not opening is running out of batteries. The safe may be showing keypad functioning, but to unlock the lock and bolts requires a more significant energy source; hence dead batteries will lead to malfunctioning of your safe and the safe not opening.
The lock bolts getting jammed is more common than you believe or expect them to be. Over time dust and the surroundings end up making your lock bolts jammed. This may lead to the unlocking mechanism not working correctly, and thus your safe is not opening.
A safe may enter a lockout mode if you enter an incorrect pin several times. At times like this, it goes on a security alert. It disables its functioning for a short time in which you have your safe not opening.
This may end up causing you a bit of a trouble. Damaged wiring always results in the safe not opening since the internal mechanisms are at fault here.
Is Your Safe Not Opening? Here's What To Do
When your safe fails to function due to dead batteries, you must replace your batteries. A safe requires a strong energy source to unlock the bolt system from within, which a new battery will provide quickly. You can do this yourself. However, we recommend calling a locksmith since they are experienced in what they do and can offer you premium services.
Kick the safe to un-jam the bolt
At times like these, it is best to let out all your frustrations on your safe. You can kick it, hit it, and does whatsoever to enable that the bolt loses the excess dirt particles stuck inside it that have made it jammed.
You can also move the handle the opposite way and continue entering the pin code and then unlocking. This may also help the bolt to unjam itself. Thus, your safe lock will open.
Always give it time. Your safe may have just gone in security mode since it may have considered you to be an intruder. You can easily re-access your safe after waiting for 10 – 20 minutes by entering the pin code.
Disconnect and reconnect the wiring
Having damaged wiring is a serious issue. To try and sort this out, you can carefully disconnect the wiring from the battery and keypad and reconnect it after at least 20 – 30 seconds, enabling the safe to work. If this doesn't work, the best option is to call a locksmith.
Calling a locksmith is the best option since it is often hard to identify the issue yourself. A trained locksmith will know precisely what is wrong and use their expert equipment at times like this. They will solve your problem immediately.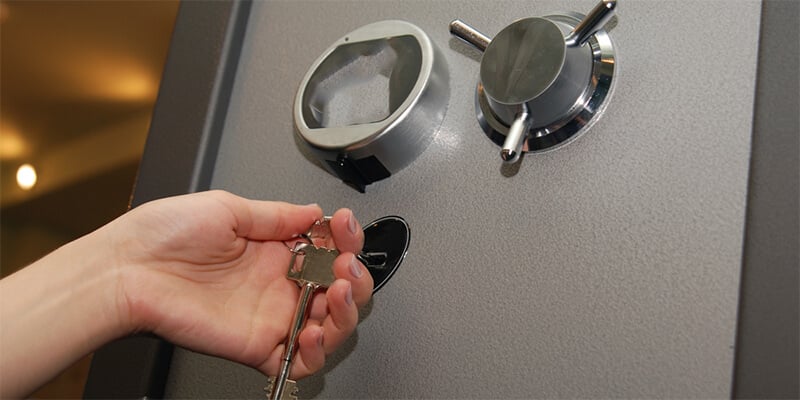 Wrong Combinations - Most Common Reason For Safe Not Opening
You may not believe it but entering wrong combinations is the most common reason your safe not opening amongst the many others.
If you're opening your safe lock after a long time, you may either forget your combination, or your lock combination may end up shifting due to lack of maintenance. Hence, at times like these, you should call a locksmith to resolve your issue immediately.
Can A Locksmith Open All Safes?
A locksmith is trained enough to be able to unlock all kinds of safes or locks. We possess the necessary equipment that is needed to unlock your safes without causing any damage whatsoever.
Our expert team of professionals is well equipped. It has the particular knowledge necessary to look at the information at hand and understand the problem in-depth and thus open all safes having been trained in the aspect for years.
If you are unable to verify ownership, we will not be able to provide you any services since, according to our policy, we need to ensure that the safe you need help unlocking with belongs to you.
We are always accountable for whatever we do; hence we need to ensure that we are not acting as accomplices to any crime or illegal activity. We are confident you will understand our policies.
Why Choose our Company Services?
Safes NYC- We Can Install All Kinds Of Safes For You!
Installing a safe in your house has become essential to ensure maximum protection for you and your valuables. Safes NYC has top-of-the-line locksmiths who are always available throughout New York City to provide you whatever services you need.
Our team has undergone intense training that has made us certified to provide the top services. So what are you waiting for? Contact Safes NYC now and get the premium services in New York City.
Safe Not Opening - Articles
Joshua Crawford
43 Reviews
I wanted to replace my old door locks as I find them not so secure and also gave me troubles. I took the decision to upgrade the security and called them for help. I was thrilled by seeing the quickness and hard work the locksmiths did of installing advanced security door locks. This gave me 100% satisfaction and surely would recommended them for my friends and family.
Positive: Professionalism At my office place, I have the responsibility to store hard copies of all of the confidential data in filing cabinets. I wanted to ensure that the information remains safe and secure and thought of upgrading the cabinets with locks. I found this company online and called them up. The technician which you
They are the best company that provide locksmiths for fixing issues and making customer's life back on track. Being a 5 star rated company I totally recommend it for all of your lock and key needs for house, residential, commercial locks and much more.
Hays, thank you so much for such kind words. Such kind of feedback from our clients like you, encourage us to work hard for providing the best services.
The tech was really a nice guy and did the work of fixing the locks in a very knowledgeable manner. He took care of our complicated situation and gave us the solution. I appreciate his hard work and skills and surely going to recommend him for all.
Definitely recommended service as I recently got locked out of my apartment. The locksmith arrived in 30 minutes of my call and got my door unlocked. He got this emergency job done quickly and later also replaced the old lock with a new one. I really appreciate the assistance.